Videoing Services
With the increase of courses and competitions on the farm we decided to invest in a following camera for recording training sessions, online coaching and online competitions.
Recording Training Sessions
You will be offered the opportunity to be recorded whilst you are on oval track, clicker or obstacle courses here and if you wish to organise a private training session with me, I am available for training and video assistance if you wish to record yourself to take part in an online competition, either in the arena or on the oval track or obstacles.
Please email me to check availability.
I am starting to put together a series of videos dealing with how I ride Icelandic Horses. This is a work in progress and you can see it here
Oakfield Farm are now running clicker training courses. Details of what we are up to are on this link
The sales list is out of date and will be updated when I have horses for sale. There are a couple under training who will be for sale later this year, All horses sold have a 4 week money back period for low risk horse buying .
We are active on Facebook as Oakfield Farm
On to the rest of the site, horribly out of date and will be worked on soon day job permitting.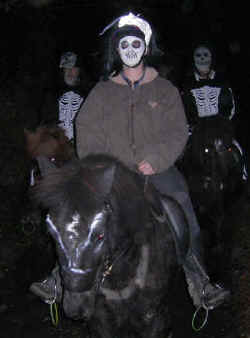 It was Jane's idea, a night time ride at Halloween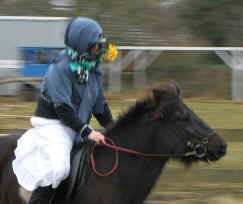 Winter Woollies 2009 People have fun being silly.
Show Results Archive I have collated the results of as many shows as I can and put them all on an archive page. Updated April 2013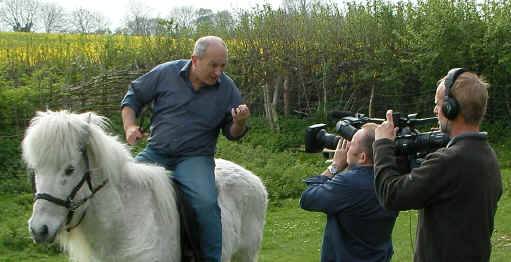 Mike Loades and a film crew visited us recently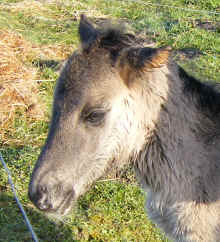 2008 Foal born 11th April 2008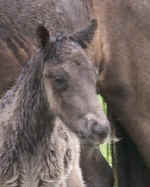 Arrived at Oakfield 24th April 2007
Icelandics in the snow and the camera comes out!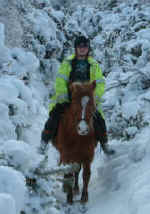 Foal Pictures here A little filly born early on the 16th March 2005.
Next batch here More pictures of her first day
.
Course Background Information:
For definitions of paces, specifically the differences between slow and fast tölt see the FEIF Gait booklet and for what the judges are looking for the FEIF Judging guidelines which also define the Gaits.
You are invited to bring music for the qualifying part of classes in shows where you are on the track alone (open classes) and the fancy dress. For the open classes music can be provided on a memory stick, CD or phone, set to the right music track. This must be delivered to the speakers caravan at least an hour before your class and collected in a break after your class.
Please do not try and discuss any issue with the speaker in the caravan whilst a class is in progress unless it is an immediate emergency.
Spectators
There is no charge for spectators, you are welcome to come and camp for the weekend. If you are a day visitor please park in the drive or in the spaces outside the farm.
If you would like to be informed about what you are seeing, see the class descriptions below. A printed flyer will be available for spectators. We recommend you download the FEIF Sport Guidelines app to your phone if you would like help understanding the judging. If you are camping for the weekend, there is a judges forum on the Friday evening where the judges will talk about what they are looking for and how they mark the horses, please feel free to attend if you can.
Tea, Coffee & Cold drinks for visitors are available in Teaosk at the end of the school. Donations welcome.
We do ask people attending to support the riders competing by spectating (remember to bring something to sit on!) but if you want to ride out (or walk) unaccompanied there are a lot of lovely off-road routes available directly from the farm gate. There are short ride route maps at the end of this document and there are maps and attraction leaflets along with free wifi available if you have partners who are not "horsey". We do not provide facilities for non-riding children under 7. Please be aware of this if bringing younger children with you.
We expect dogs and children to be supervised at all times as Oakfield is a working farm and we have unprotected electric fencing and other unguarded safety hazards.
Please do not try and discuss any issue with the speaker in the caravan whilst a class is in progress unless it is an immediate emergency.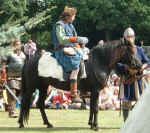 2003 Events. We managed to get out and about a bit with the horses in 2003. Here are a few pictures of what we have been up to
Foal growing up Sol's foal has become extremely fluffy for winter 2004/2005
Oakfield Icelandics A bit about our farm and horses.
2003 Foal For those who wanted to see her here is Sol's foal just after she was born.
The Icelandic Grin Riding Icelandics often leads to large grins due to the fun people are having
The Oakfield Gang A little bit about all the horses that live at Oakfield Farm
Icelandics can be driven as well as ridden
Rides Out with the Oakfield Gang A little about some of the rides we do from Oakfield Farm
Some pictures of our young horses trying to eat Colin's Jeep!
Picture Gallery, Lots of pictures of Icelandic Horses